Villa Puravida Holiday Let
If you are looking for the perfect holiday destination this year then you have come to the right place. Villa Puravida is the perfect Spanish villa rental for families, couples, or a group holiday.
Villa Puravida is located in Javea, Costa Blanca ad is within easy reach of the most beautiful beaches in the world. Once you have been to Villa Puravida you won't want to leave. This luxury holiday villa is furnished to the highest possible standards. With its fresh and modern decor throughout the house its a great place to de stress. Villa Puravida has 5 spacious bedrooms, four bathrooms and a swimming pool along with a pool table and dart board for other entertainments.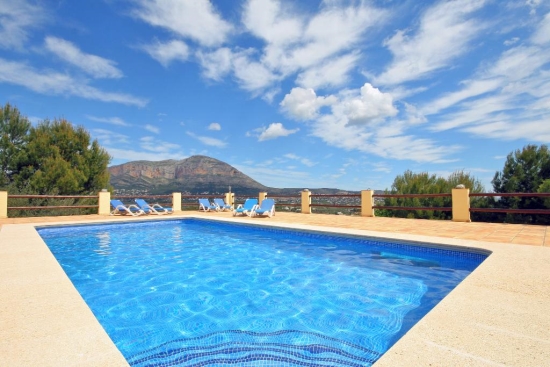 Located in the lovely town of Javea, Costa Blanca this holiday villa is only 5 minutes by car from the old town of Javea. If you like historical monuments set in idyllic landscapes then a visit to the old time is a must.
If you are looking for a little bit of excitement then you should visit the Theme Park. The Terra Mitica is the Mediterranean's leading theme park has five themed parks in one. Each park is themed to a different country (Greece, Rome, Iberia, Eqypt and the Islands). Each park is designed to enjoy the ancient and legendary civilisation of the Mediterranean. The park is about 30 minutes car journey away from Villa Puravida and has a range of rides and activities that the whole family will enjoy.
Or if it's a water park you are looking for then Aqualandia is one of the largest water parks in Europe and is one that you should visit while staying at Villa Puravida. The park is full of great attractions such as springboards of Laguna, Kamikaze, Atlantic wave pool and the black hole to name a few. A key feature to the water park is the child friendly Adventure Land which has been developed for infants and young children to enjoy. With over 20 rides and areas, from high adrenaline rides like the big bang, to the relaxing Amazonas. The water park is about a 30 minute car ride from the villa.
If you are looking for a relaxed and peaceful holiday then Javea is the place for you, once you visit Villa Puravida we can guarantee that you will be back year after year.